Discover if quartz countertops are right for your home.
Having old, worn-out, or unappealing countertops in your kitchen can detract from all the positive features of your space. It doesn't matter if you have new major appliances, new wood flooring, or upgraded cabinetry if you're still not pleased with the way your countertops look. After all, you likely use your kitchen countertops every day to prepare food, wash dishes, serve meals, or write out your daily to-do list. However, if you want to upgrade your lackluster counters into beautiful quartz kitchen countertops, our team at Carolina Custom Countertops can help.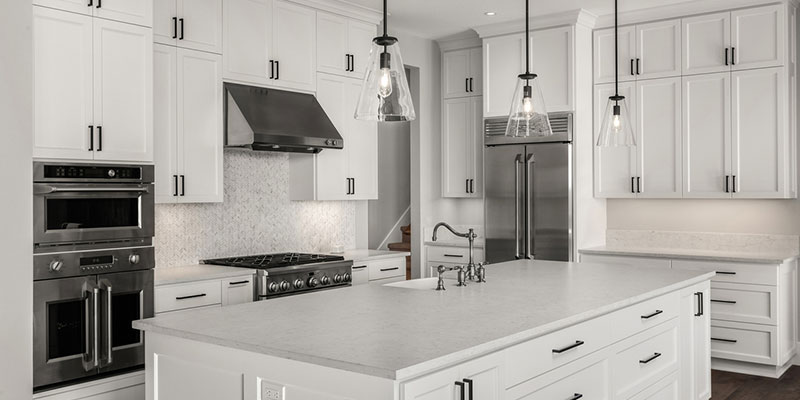 Since 2004, our skilled design and installation professionals have been helping homeowners just like you throughout the Charlotte, North Carolina region. We provide custom countertops, including custom quartz kitchen countertops, and semi-custom cabinetry services to help every homeowner create spaces they'll truly love for years to come.
Our quartz kitchen countertops are only made with the highest-quality materials, so you can have confidence knowing that they'll be able to stand up to daily wear and tear without showing any signs of damage. Since quartz kitchen countertops are engineered to be durable and resistant to cracks and scratches, they can be even stronger than natural stones, like marble or granite. Furthermore, quartz is non-porous, which makes it very resilient to water and bacteria, so messes are easier to clean up and mold is less likely to grow on your countertops.
Quartz kitchen countertops are available in a wide variety of colors and patterns, so there's a unique design that's suitable for every preference. To come see the beauty of quartz for yourself, we encourage you to schedule an appointment to tour our showroom. Our friendly staff will be able to show you our inventory and tell you more about the features and benefits of quartz countertops. Simply give us a call to learn more!