Turn to our experienced team when you want to upgrade or replace your kitchen cabinets.
Have you ever opened one of your kitchen cabinets and been met with a tidal wave of Tupperware? If you're like many other homeowners in the Charlotte, North Carolina community, you've probably struggled to fit all your dinnerware, pantry items, and cooking utensils in your limited kitchen space. Fortunately, there's hope for even the most cluttered and cramped kitchens when you turn to our team at Carolina Custom Countertops.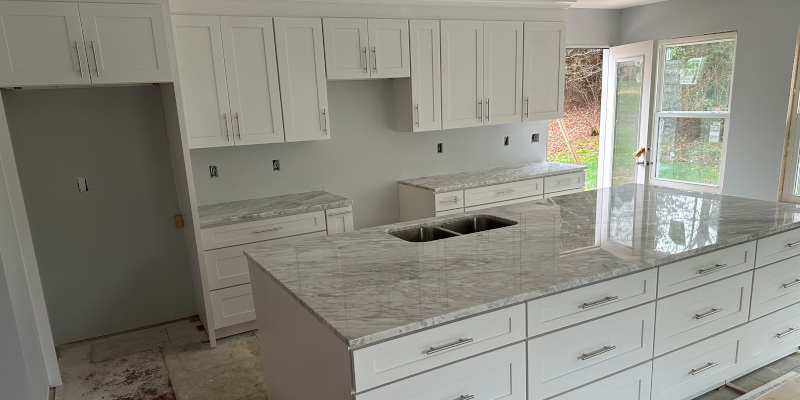 For nearly 20 years, our experienced team has been helping people just like you maximize their spaces and get kitchen cabinets that are specifically designed around their needs. With our semi-custom kitchen cabinets, our clients can select the styles and colors they love while getting the most efficient storage options for their unique interiors.
Whenever we meet with a potential client, we provide a free in-home consultation in order to learn more about the person's particular needs, as well as what they dislike about their existing kitchen cabinets. From there, we'll discuss the client's design and style preferences, their budget, and other details in order to create a special plan tailored to their home. If they decide to hire us, we'll get straight to work on creating kitchen cabinets that the client is sure to love for many years to come.
Our unique kitchen cabinets come in a wide array of designs and colors, and we're confident that we have something to suit anyone's tastes. If you're ready to say goodbye to cabinet clutter and improve the overall look of your kitchen space, we encourage you to give us a call today!
---
At Carolina Custom Countertops, we install kitchen cabinets for customers in Charlotte, Mooresville, High Point, Wilmington, Asheville, Fayetteville, Raleigh, Durham, Greensboro, and Winston-Salem, North Carolina.