Enhance the appearance and functionality of your bathroom with a new vanity cabinet.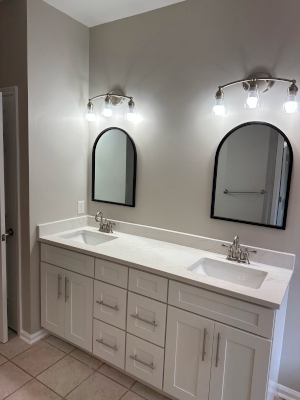 Is your bathroom countertop frequently cluttered with various skincare, makeup, and hair styling products? Do you feel like there's just not enough space for you to efficiently prepare for the day? If so, the issue may be that you don't have the right bathroom vanity cabinets.
Bathroom vanity cabinets typically include one or two sinks along the countertop, with storage space in the drawers or shelves underneath. If your Charlotte, North Carolina home currently has a freestanding sink or a pedestal sink, this could be significantly reducing the amount of storage space you have in your bathroom. Fortunately, our team here at Carolina Custom Countertops can help you discover bathroom vanity cabinets that will work around your life.
Our experienced team has been serving homeowners throughout this community for nearly two decades, and we offer an excellent option for people who want to maximize their storage space without sacrificing their design preferences or breaking the bank: semi-custom bathroom vanity cabinets. When you choose from our vast array of bathroom vanity cabinet styles, designs, and colors, you can design a look that you love, and our builders will create a new cabinet to perfectly fit your space.
If you'd like to learn more about our bathroom vanity cabinets, we encourage you to reach out to our team today and schedule a free in-home consultation! During this initial conversation, we'll simply get to know you and your needs a little better, show you some samples of our high-quality products, and view your existing bathroom to fully understand what you'd like to change. To get started, simply give us a call.
---
At Carolina Custom Countertops, we install bathroom vanity cabinets for customers in Charlotte, Mooresville, High Point, Wilmington, Asheville, Fayetteville, Raleigh, Durham, Greensboro, and Winston-Salem, North Carolina.