We offer both the unique and the standard countertop materials so you have plenty to choose from.
If you have been doing research about countertop materials, you might have noticed that there are multiple options these days. You might also have found it challenging to find a contractor who offers some of the choices you want to learn more about. At Carolina Custom Countertops, we want our Charlotte, North Carolina customers to get the result they want for their home, so we have a tendency to think outside the box to offer the more unique countertop materials you might be looking for.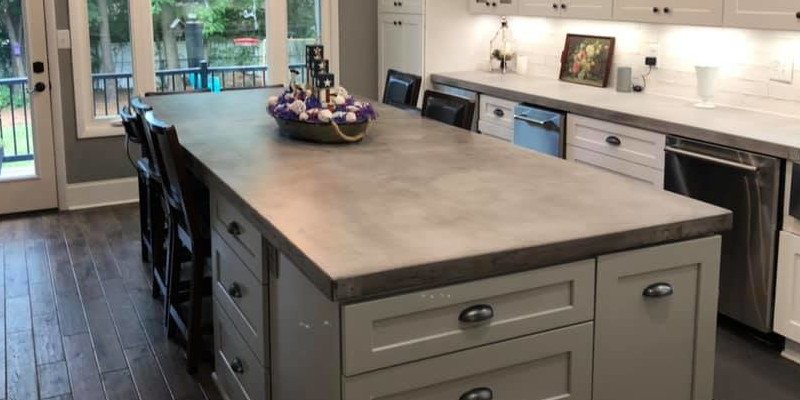 One of the options we offer is concrete countertops. While you might think they are only found with outdoor kitchens, the reality is that they are growing in popularity for indoor ones too. We actually do both and can also create concrete tables to use elsewhere in your home. Our team is trained and certified for concrete, and our concrete countertops are warrantied for three years.
We also offer the typical countertop materials, including granite, marble, and quartz. To learn more about the different options and the advantages of each type, reach out to schedule a free in-home consultation and estimate.
FAQs About Countertop Materials
At Carolina Custom Countertops, we know that choosing new countertops for your home is a big decision. To help you better understand your options and feel confident in your choice when the time comes, we've put together this list of answers to common questions about countertop materials that our customers ask us.
Which countertop materials are the most durable?
Stone tends to be the most durable countertop material, with quartz generally thought of as the most durable and granite following closely behind. Options like soapstone and marble are also known for being very sturdy, though they are more prone to chips, etching, dents, and scratches than quartz and granite.
Which countertop materials can handle hot pots and pans?
Granite and quartz are best known for being heat-resistant, but concrete can also tolerate heat extremely well and makes a great option for those who don't want to worry about placing hot items directly on their countertops.
Are there any countertop materials that can be repaired if they are damaged?
The repair process for quartz tends to be the easiest, but most stone countertops can be repaired by a skilled technician. The main difference in repair processes is how time-consuming they are and what materials are needed to make them blend in with the non-damaged surfaces.
Are there countertop materials that are safe to cut or chop on directly?
We highly suggest avoiding cutting or chopping anything directly on a countertop, no matter how durable the material is. Knives can cause chips or scratches on the countertops, and it can cause your knives to dull, so we always recommend using a cutting board.
---
At Carolina Custom Countertops, we install several different countertop materials for customers in Charlotte, Mooresville, High Point, Wilmington, Asheville, Fayetteville, Raleigh, Durham, Greensboro, and Winston-Salem, North Carolina.
Similar Services We Offer: